Gallery of the Stupid
Drive Carefully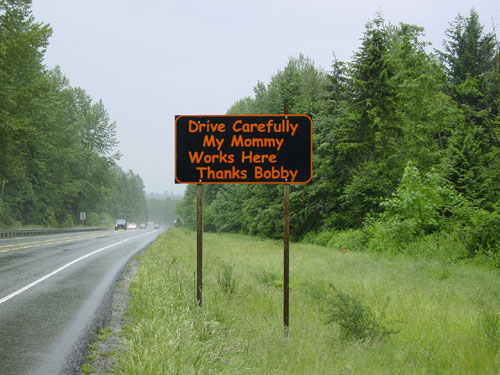 This damn sign bugs me for so many reasons I go into fits.
First off, lets look at the typeface.
The state used a variant of Comic Sans to give the illusion a child somehow created the sign. If this actually fooled one single driver, they should immediately have their license suspended because they are too stupid to be driving.
Now lets look at the emotion this creates.
I am so insulted by this sign, I almost feel like running down a construction worker. This might be why the sign is located nowhere near an actual construction site. I'm thinking the foreman on this site looked at the sign and decided to mount it a mile down the road to save the lives of his crew.
I'm not opposed to irreverent signs. In fact I encourage them. I'd even go so far as to use a kid for the ad. How about a sign with a photo of a construction worker and some text like this:
THIS IS MY DAD
IF YOU RUN HIM DOWN
NOBODY WILL PAY MOMMY CHILD SUPPORT
At least this way if you see a construction guy along the side of the road, you'll know who he is. And if he wanders into traffic, you'll know why.