Cedarville, CA
The last town before Gerlach, Nevada.
Cedarville (pop. 1,100) is the last town you will drive through that has any semblence of being what can be considered a town. There is an gas station, two small stores, a burger stand, a restaurant, some motels and not much else. Eagleville has a very tiny store, a post office and no other establishments of any kind.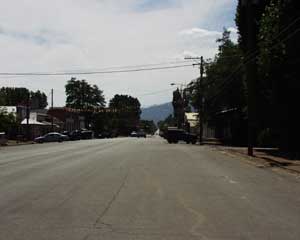 It's a good place to stop and have a bite to eat at Susan's Frosty. The service is not fast, but the burgers are good. While you wait, head across the street to the Pages Grocery Store and pick up any last minute supplies you might need. They have a lot of camping odds and ends.
There is not a single gas station of any kind between Cedarville and Gerlach, a stretch of 97 miles. Outside of the small store and post office in Eagleville, there is literally, nothing at all along this stretch of road.
Once you arrive in Cedarville, it is a great idea to check your water, tires and oil and top of your gas tank with the most expensive gas of the journey at the surliest gas station I have ever visited. The pass you will have crossed is 6305' and can be quite a chore for any vehicle. It's also 97 miles to the next service station. The gas station pumps do not work after hours and the station closes by either 6PM or 10 PM. If you don't need to stop for gas, then avoid these jerks.
2008 Update
CEDARVILLE GAS IS NOT CLOSED!
OK, make up your stinking minds. First it was run by Crazy Gar, then it was supposed to be run by some nice couple, then I was told it was closed, now it's open and there's a big sign that says "Closed by Wally".
The station is now open and people I trust told me its now being run by a nice couple.
There is a dearth of gas stations along the route and I recommend you fill up in Alturas, then top off in Cedarville if you have to. I highly recommend refilling in Gerlach or better yet at the Empire Store, a long-time Burner Friendly establishment, in case gas is not available when the event is over.

Burner Recommendations:
Food
Susan's Frosty - Burner Recommended!!
610 Main street
Cedarville, CA
(530) 279-6284
Mini Yellow Pages:
Country Hearth
501 Main street
Cedarville, CA
(530) 279-3354
Desert Deli & Pizza
551 Main street
Cedarville, CA
(530) 279-2280
Golden Bar & Restaurant
575 Main street
Cedarville, CA
(530) 279-2202
Tumbleweed Cafe
415 Main street
Cedarville, CA
(530) 279-6363
Valley Service Station
CLOSED!!!
601 Main street
Cedarville, CA
(530) 279-6241
Lodging
Cedarville Motel
State Route 299
West Cedarville, CA
(530) 279-2161
Drew Hotel
581 Main street
Cedarville, CA
(530) 279-2423
Sunrise Motel
State Route 299
West Cedarville, CA
(530) 279-2161
Pages Market
(530) 279-2626
488 Main St, Cedarville, CA 96104