Alturas, CA
The cultural center of Modoc county.
Alturas (pop. 3,200) is the end of the line when it comes to civilization. It is the county seat and the center for commerce for the surrounding area. You can get gas in Cedarville, but this is the last town with grocery stores, banks and such. If you need cash, water, groceries, gas, anything, get it here or you are on your own. Alturas, rolls up and goes to sleep after dark and Cedarville turns in even earlier.
If you forget anything you desperately need, Alturas is the last place you might be able to find it and the town is over 107 miles away (about 3 hours) from the Gerlach.

Burner Recommendations:
Alturas Chevron
This is a nice place to tank up. It's open from 5 AM - 2 AM most of the year and expands it's hours a bit to accommodate the crush of visitors around Labor Day.
The parking lot is usually full of Burners. It's a great place to meet others heading to BRC. Even if the store is closed, the pumps take credit/debit cards.
(530) 233-5114
4 Corners Market
1077 N Main St (CA-299 & US-395) Alturas, CA
One of the best last major food/supplies pit stops is the 4 Corners Market. It's right across the street from the Chevron. The Owner is a really cool fella who doesn't mind letting folks use his hose to top off or fill up their water jugs (if you ask nice).
(530) 233-3822
Holiday Market
1200 W 12th St (CA-299) Alturas, CA
A nice place to shop as well.
(530) 233-3655
Wagon Wheel Cafe
This is your typical diner with an attached motel. The food is very good food and friendly service.
Alturas Chamber of Commerce
They have a list of all of the businesses in Alturas you might need at:
alturaschamber.org/businesses.htm

Map of Alturas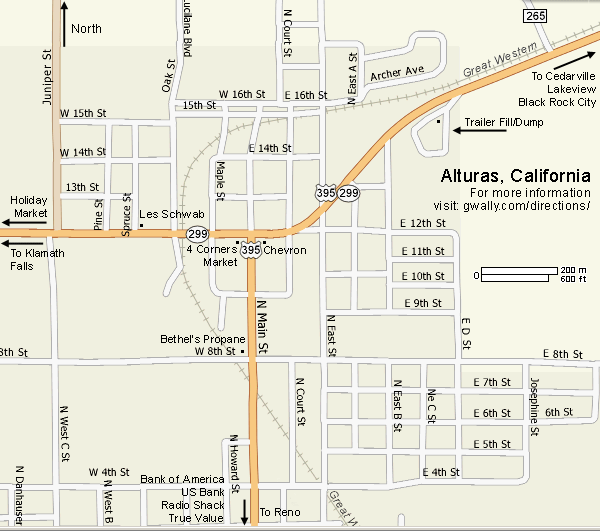 Mini Yellow Pages
Holiday Quality Foods
(530) 233-3655
1200 W 12th St, Alturas, CA 96101
holidayfoods.com
Les Schwab Tire Ctr
(530) 233-3623
1201 Spruce St, Alturas, CA 96101
Wagon Wheel Restaurant
(530) 233-5166
308 W 12th St, Alturas, CA 96101