Living the Wally Lifestyle
Wal-Mart Threatens to Take Humor Site Off-line
March 29, 2010
The man who brought you the Cat with the Tin Foil hat has found the tin foil hat may be needed after all. It seems that retail giant Wal-Mart doesn't have a sense of humor.
At all.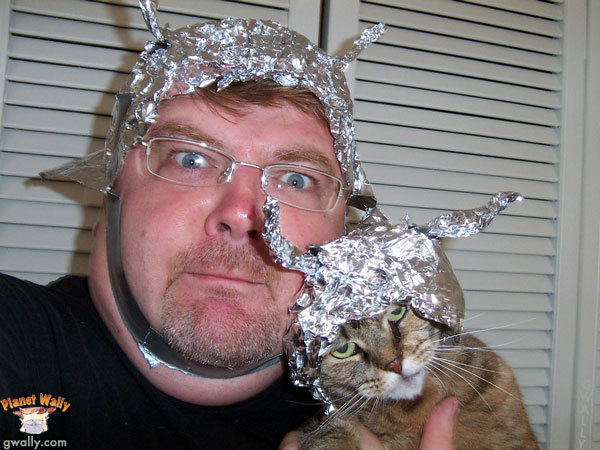 Several years ago, humor Web site http://gwally.com posted an article on how to prank Wal-Mart using their intercom system. It's been sitting there for years with no complaints.
And then someone tried out the prank for real. It seems someone in New Jersey announced over a Wal-Mart intercom system that all black people must leave the store. There was a bit of a hullaballoo.
Today gwally.com got a very threatening e-mail from RSA, the security company:
From: afcc@rsa.com
Subject: Fraudulent site, please shut down! [Wal-Mart 301]
Dear Gwally

Please be advised that your website currently doesn't host a phishing scam.
However, the following URL at your website targets our client, Wal-mart Stores Inc., brand, violating this the brand's copy rights (showing various exploits):
http://gwally.com/pranks/archives/000863.php

We kindly ask you to remove the violation ASAP.

Regards,
RSA Anti-Fraud Command Center

Did you catch that? RSA admits right off that gwally.com is not doing anything fraudulent, but they will treat my Web site as if it is fraudulent in an effort to get me to stop displaying information on my Web site that supposedly violates Wal-Mart's intellectual property and copyright.
The funny thing is, the information was never verified by gwally.com as being valid! We just thought it was funny. The code to access the intercom system was public knowledge. It wasn't as if gwally.com was going to go undercover, sign up as an employee and verify the information. That seems a long way to go for a prank. Not only that, but Wal-Mart tests workers for drug use. I personally do not do drugs, but I have long maintained you'd have to be high to want to work at Wal-Mart, so I see working there as a gateway drug and there's no use developing a drug habit at a place that pays too little to form a decent drug habit in the first place.
RSA goes on to say this:
To whom it may concern,

RSA, The Security Division of EMC ("RSA"), an information security company, has been appointed to assist Wal-Mart in preventing or terminating online activity that targets, or may target Wal-Mart's clients as potential fraud victims.

RSA has been made aware that your company appears to be providing internet services to a website, which is making unauthorized use of Wal-Mart's trademarks. This site http://gwally.com/pranks/archives/000863.php not only violates Wal-Mart's copyright, trade marks and other intellectual property rights, but may also become a host to a phishing attack, or other fraudulent scams directed against Wal-Mart and the Wal-Mart's clients.

If the aforementioned website is related to services you are providing to Wal-Mart Stores, Inc. or Sam's Club, please reply to this email with the name and phone number of your Wal-Mart Stores Inc. or Sam's Club contact

The fraudulent website not only represents a misappropriation of Wal-Mart's intellectual property; its purpose is to mislead Wal-Mart's clients. Our experience has shown that such sites become a host of phishing* and other fraudulent scams against our customer's account holders.

Please take all necessary steps to immediately shut down the fraudulent website, terminate its availability on the Internet and discontinue the transmission of any e-mails associated with this website.

We understand that you may not be aware of this improper use of your services and we appreciate your cooperation.

We specifically ask that you also take the following actions wherever relevant or possible:

please provide us with a tar/zip file of the source code for this website, so that we may analyze it to help prevent further attacks;
if any customer data has been captured that is stored on your systems or equipment, please send us that data so that the customers to whom that data relates can be notified and take steps to protect their credit; and

We specifically would ask that you also provide a copy of any records you maintain that indicate the name, contact information, method of payment or similar information that may be useful in helping learn the identity and location of the customer for whom the website has been operated.
The foregoing is without prejudice to any and all of rights and remedies of any financial institution in connection with this matter, which are hereby expressly reserved.

RSA is providing this notification to you in the interest of preventing the proliferation of phishing scams and the information contained herein is provided to you on an "AS-IS" basis, without representation or warranty of any kind.

Thank you for your cooperation to prevent and terminate this fraudulent activity.

Sincerely,

If you need further information, please do not hesitate to contact RSA at the numbers below.

Sincerely,

RSA SECURITY INC.
RSA Anti-Fraud Command Center
Tel: +44 (0)800-032-7751 (UK)
Tel: +1-866-408-7525 (US)
EU Fax: +972-9-9728101
US Fax: +1-212-208-4644
E-mail: afcc@rsasecurity.com
* "Phishing" generally refers to a variety of web based scams that make use of an illegitimate website which passes itself off as being that of a targeted financial institution together with associated data collection points (including web based email accounts) in order to deceive the account holders of the financial institution into revealing their personal information, including but not limited to their credit or debit account numbers, checking account information, social security numbers, or banking account passwords. Once these account holder credentials are collected they can then be used to commit wire fraud or other similar activities of a criminal nature.

I guarantee you I have nothing to do with Wal-Mart. I do not engage in any scheme of any sort that could be used for fraudulent activity. I have better ways to make money that victimizing people.
gwally.com has been around for about 15 years. We've never been anything more than an embarrassment to ourselves. If gwally.com goes down, it's because Wal-Mart engaged in shady, disreputable business practices. We support privacy rights, we support the EFF and we support you by finding ways to make life a little less boring.
For more information, visit: http://gwally.com/news/000929.php.