Wide World of Pranks: Phone Pranks
iPhone Rick Roll Virus Prank
Virus writers might be jerks, but sometimes they have a great sense of humor.
A virus has popped up that affects jail-broken iPhones. This would be a phone where someone discovered a way to crack the unlock code, which allows the person who purchased the phone to use it as they see fit instead how corporations like AT&T or Apple might think you should do. I bet they have a tendency to look for ways to line your pockets, but I'm digressing.
For some reason, only jail-broken iPhones can be infected by a virus which announces itself by swapping out the background wallpaper on an iPhone and replace it with a photo of Rick Astley.
That is cruel in itself.
So the prank is really simple. Take your victims iPhone, open a Safari and visit this page.
Click on the Rick Astley image below.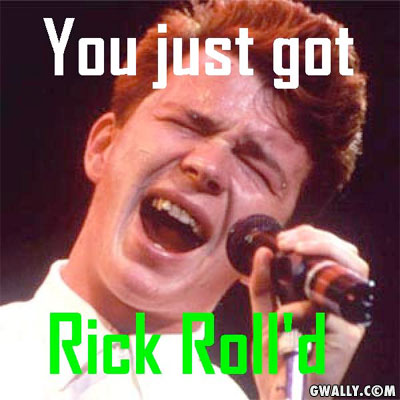 Click the option to save the image as wallpaper.
Open up the iPhone Settings, choose Wallpaper, choose Camera Roll. You may have to scroll down to the image. It will be the last one on the bottom. Click on the Image, the select Set Wallpaper.
The next time your victim opens the phone, they will see the Rick Astley image. You can alert them that they must have picked up the Rick Astley virus.
We foresee this prank as vicious and mean-spirited because the victim will most likely call AT&T's technical support and if my interactions with them is any indication, it will be a long, angry, pointless call.
Rickrolling iPhone worm is never gonna give you up
http://news.cnet.com/8301-13579_3-10393136-37.html