Living the Wally Lifestyle
The Definition of Fun
April 21, 2011
I went to the Turlock Swap Meet in Turlock California where I ran across the definition of fun.
A broken go-cart.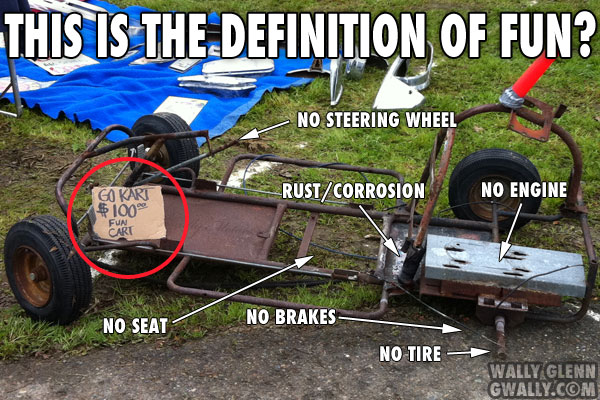 This go-kart clearly has all the definitions of fun I think of when it comes to go-karts. This go-kart has no brakes. It has no seat. There is no steering wheel. It has serious corrosion problems. I also noticed it's lacking an engine. Finally, it only has three wheels, so it's not going to roll far on it's own.
The owner claims it's a fun kart and you can have this amount of fun for only $50.00.
After a hard day of shopping, I headed home and made it a point to stop by to see if the guy had sold the kart and if there was any way to talk the fun down to maybe $50. I had no intention of buying the kart, I just wanted to know if I could get fun at a discount.
The guy had sold the go-kart to someone else, presumably sober, for the full asking price of $100.00.
I think the true definition of fun is knowing he just found a sucker willing to part with cash for this rusted heap of scrap metal.