Living the Wally Lifestyle
I have taken up smoking
April 01, 2008
I have finally decided that now is the time for me to take up smoking.
I have been practicing in the mirror with a modified Bic medium point round stic pen to see if I look cool enough and dammit, I look cool enough.
Another friend of mine, we'll call him Don McCasland to protect his identity, has decided to quit smoking. The problem is that in smoking, two men enter so one man can leave. We already found a guy who's bleeding heart liberal family attributed his death to smoking, so now Don has two men, so he can leave in peace.
He offered to let me have his cigarettes, but I can't smoke his cigarettes. The brand is as important as the look and Don McCasland smokes Virginia Slims.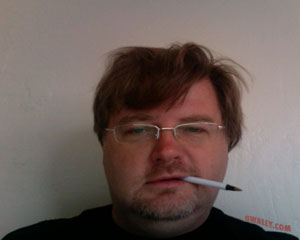 Nothing about me says I am from Virginia or look slim. Although I do like watching women's tennis, but only if Venus Williams is playing.
I have not permanently decided on a brand, but for now, you can refer to me as the Marlboro Wally to reflect my newfound coolness.