Living the Wally Lifestyle
The Dicky Box
September 20, 2005
For several years, Dicky has been going to Burning Man and he always claims the event sucks. Of course, Dicky's friends have told him if he actually left his camp and checked out the event, he might have a better time.
So in 2005, his friends came up with a plan. Instead of having Dicky in their camp complaining about Burning Man, they stuck him in a box on the Playa for the run of the entire event.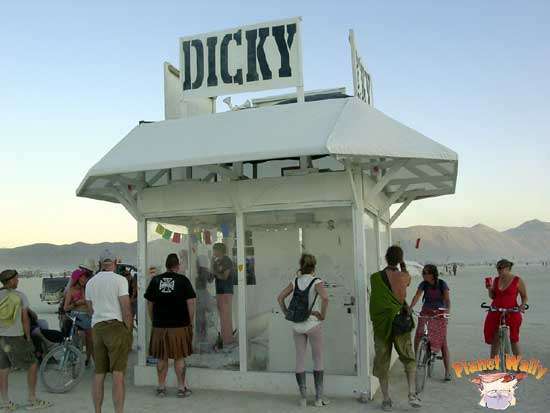 Dicky went into the box at 12:00 AM Sunday night as the event started with the resolve to remain in the box the entire event. Inside the box was food, water, a bed and a potty.
People talked to Dicky, told him stories and in essence kept him up for eight straight days. Women attempted to lure him out using sex. Men attempted to lure him out with offers of cash. DPW attempted to lure him out by bashing out one of the plexiglass windows and dragging him out of the box in a plan they came up with in a drunken rage called, "Free Dicky!", also known as the Dicky Liberation Front. The Pyro Crew attempted to steal a Hyster forklift and take Dicky on a tour of Burning Man, but were prevented by threats of legal action.
Dicky remained in the box for eight days and emerged at the end of the Burning Man festival on the following Monday Morning at 12:01 AM. Rumor has it that after Dicky got out of the box, he found himself romantically involved with five different women.
There is no word on whether or not he thought the 2005 event sucked.


For more photos from Burning Man, check out arfarfarf.com/photos.