Wide World of Pranks: Computer Pranks
Dealing with Bandwidth Leeches
One thing as a Webmaster that sucks is people who link to content on my site without crediting me.
They end up leeching bandwidth which makes it harder to provide services for those that come to this Web site for the unique fun we have to offer. I have had Right-Wing Conservatives leech images from my site. The same ones that bitterly announce that Welfare is bad because people should have to pay their own way.
So if the leech is sucking enough blood, I have to act.
I employ scripts which makes it hard to link to images on my site. I also use sneaky fun. I will routinely rename images on my site and replace them with new images. Like this handy animated image: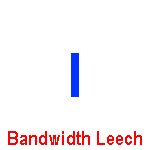 After this, I just watch the site to see how long it takes them to realize they no longer have the funny image they thought they had.
Feel free to copy this image to your own site and use it to discourage your own bandwidth thieves.