Avatars
Jon Stewart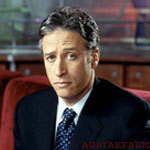 Jon Stewart is hot, but I feel sorry for him. Lots of women have described their ideal mate as a guy 6' tall and just like Jon. Sadly, he's 5" too short to live up to his own dream image.
Get the Code:

Discussion Forum:

MySpace:

Avatar Image Code:

ALT-CLICK
the image to download to your phone for free.
Search:
© Copyright 1995-2008 by Wally Glenn. All rights reserved unless otherwise noted. Hosting provided by GetWally.